Melis Bayraktar
Famous Turkish-German director Fatih Akın in his latest movie, "Rheingold," focuses on the eventful life of German rapper and music producer Giwar Hajabi, better known by his stage name, Xatar.
Xatar, which means "danger" in Kurdish, spent three months of his childhood in an Iraqi prison with his parents, both musicians, who fled the Khomeini regime in Iran in the early 1980s. He arrived in Germany at the age of 4 as a refugee and grew up in a social housing estate in Bonn. Seeking money and fame, he got into petty crime, from copying porn onto VHS tapes to selling drugs, in addition to rapping and producing beats in the recording room of a youth center during his younger days. He founded the Alles oder Nix Records label in 2007, and his first album, "Alles oder nix," was released in late 2008. In a twist of fate, Xatar ended up in an Iraqi prison again after he was involved in a gold robbery in late 2019 and was extradited to Germany to serve an eight-year sentence. Xatar and his accomplices, disguised as tax investigators, stole 120 kilograms of jewelry and gold teeth worth around 1.7 million euros. Xatar completed his sentence in late 2014. During his time in prison, he continued his musical work and released his second album, which brought him significant success on the album charts in Germany, Austria and Switzerland.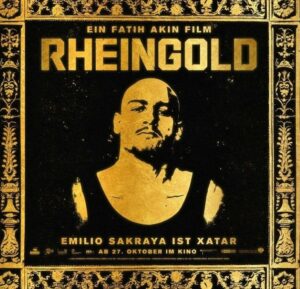 "Rheingold" is based on Xatar's autobiography, "Alles oder Nix: Bei uns sagt man, die Welt gehört dir (All or nothing: We say the world belongs to you), published in 2015. Xatar, who expanded his entrepreneurial work in addition to musical activities to gastronomy, jewelry, fashion design and more, has been named by German newspaper Die Zeit the "The Hype Machine" since each of his ventures has become a success.
Rising German star Emilio Sakraya plays the lead role in the film.
Premiering at the 30th Filmfest Hamburg, "Rheingold" was seen by some 170,000 people the weekend after it opened in theaters in Germany on October 27, giving Akın the best movie start of his career.
Akın, who has won numerous awards for his films, including the Golden Bear at the Berlin Film Festival for "Head-On" in 2004, Best Screenplay at the Cannes Film Festival for "The Edge of Heaven" in 2007 and the Golden Globe Award for Best Foreign Language Film for "In the Fade" in 2017, spoke to Turkish Minute in an exclusive interview about "Rheingold" and the story behind it.
Let's talk about "Rheingold." What exactly made you decide to work on this project?
I was fascinated by the autobiography of Giwar Hajabi, aka Xatar. While I was reading it, I had the feeling it was material for a crazy, cool, experimental and strong film.
How did you research the various scenes in the movie? Did you talk to any family members?
Yes, the autobiography was just the beginning. I had to dig deeper and met most of the people you see in the film in person. It made everything more precise and unique.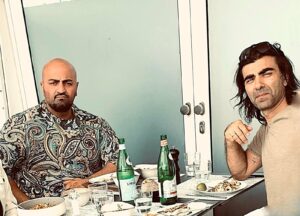 What message do you hope to give the audience with this movie?
I don't do movies for specific messages. I see my work or art form as that of a storyteller. Most of the stories might have a moral, but I'm not interested in focusing on that. The objective of the film is to show the audience a certain lifestyle. A parallel society, or a narrative, if you please. These societies are in the middle of Europe, and we don't know much about them.
What did you like the most about Giwar Hajabi?
He is very aggressive and bold. He goes upfront. He's a maker with a lot of power. His school was the street. And his education seems more valuable than any high-end university.
'Hip hop was always the messenger. And people sometimes don't like the content of the message'
What do you think of hip hop? Do you also listen to Turkish rap? If so, who is your favorite Turkish rapper?
I listened to hip hop in the '80s. I also learned English through hip hop, as a collector of vinyl that came with printed lyrics. Gangster rap develops in places where social upheaval occurs, in the favelas and in all parts of the world where there are social inequities. It reflects the gap between the rich and the poor. I grew up as a migrant, a Muslim migrant, in a German city.
Hip hop was always part of my lifestyle. African-American hip hop music was a guide for my generation. Nowadays hip hop has changed because society has changed. Hip hop was always the messenger. And people sometimes don't like the content of the message.
From Turkey I like Ceza and Ezhel.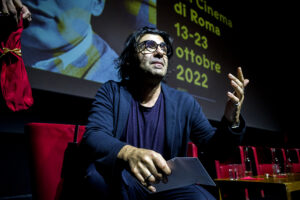 How was it working on the movie? What was the vibe on the set?
There was a lot of improvising and changing of the screenplay. It was one of my most challenging projects to date, with the pandemic impacting production of the film, which had 120 locations and thousands of extras, coupled with a tight timeline to shoot the movie. It was like rehearsal for a theater play with a very expensive movie. It was not the sort of filmmaking I recommend. It was like John Cassavetes doing "Titanic."
But it had the best opening. "Rheingold" was released in Germany on October 27 and has grossed over €10.5 million. It's the greatest success I've had so far.
How hard are you on yourself as a director when you revisit your own work?
After my wife, I'm the harshest person on my work. Most of the time I see things I don't like and am eager to do the next film better.
Every time you make a movie, you aim to make the best movie ever made. Can you explain how you arrived at that goal? Audiences have flocked to see the film, which opened on October 27. Many are waiting to see it. It's a big success.
I'm not aiming for the best movie ever made. I just try to make the best movie I can at that point in time, bringing out the best of me. I try to stay focused. I try to see everything the market throws out. I try to be up to date. It is a game, sometimes it works, sometimes not. If I knew why, I'd make successful movies all the time.
What do you look for when casting your actors? You've already worked with Diane Kruger and now have more projects in the works, including your first TV series, "My Mother Marlene," about the life of German film star Marlene Dietrich, with Diane Kruger in the title role. Do you like using the same actors?
My wife Monique Akin is my casting director, and she's the best. Yes, I like to work with people I've worked with before because you don't lose time getting to know the person. I'm very pragmatic about these things.
What's the best advice you can give to aspiring directors?
Stay focused.
Editor's note: Mr. Akin's responses to the questions have been edited for clarity.