Sixty human rights activists gathered in front of the Turkish Embassy in London on Thursday to protest Turkish authorities' alleged sanctioning of enforced disappearances and to stand in solidarity with a Turkish-Kyrgyz educator in Kyrgyzstan who is feared to have been abducted by Turkey.
Organized by Human Rights Solidarity, a London-based advocacy group founded by immigrants, the protest commenced as other protests were ongoing in Bishkek where Orhan İnandı, the founder and and president of the Turkish-Kyrgyz Sapat school network operating in Kyrgyzstan, went missing on May 31, and in Brussels where activists gathered to raise European politicians' awareness about the case of İnandı, who is feared to have been abducted by Turkey's National Intelligence Organization (MİT) due to his alleged links to the Gülen movement.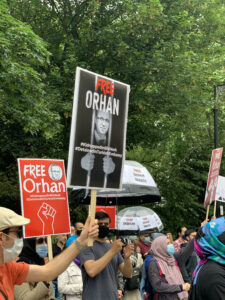 Turkey claims the founder of the school network is Turkish Islamic cleric Fethullah Gülen, whose movement is accused by the Turkish government of masterminding a failed coup in Turkey in July 2016. The movement strongly denies any involvement in the abortive putsch or any terrorist activity.
"Today we are in solidarity with victims of enforced disappearances all over the world. Today we are here for people who are missing, or are kidnapped," Merve Aslan, co-chair of Human Rights Solidarity, said in a statement she read out during the protest.
"The Erdoğan regime has become the prime perpetrator of enforced disappearances in the world. We are here today for Yusuf Bilge Tunç who has been missing for 673 days! We are here today for Hüseyin Galip Küçüközyiğit who has been missing for 164 days!"
A financial services specialist and one of the 130,000 civil servants removed from their jobs following the attempted coup in July 2016, Tunç disappeared in the Turkish capital of Ankara on August 6, 2019, and his whereabouts remain unknown. Küçüközyiğit has been missing since December 29. A successful lawyer who served as the chief legal counsel for the Turks Abroad and Related Communities Agency (YTB), he was fired from his job by a government decree in the aftermath of the coup attempt in July 2016 and was later sentenced to six years, three months in prison for "membership in a terrorist organization" due to his alleged ties to the Gülen movement. Küçüközyiğit was released from pretrial detention pending appeal.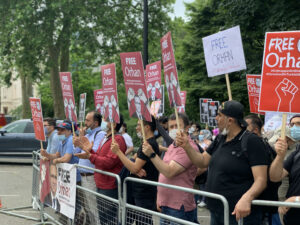 "We are here today for people kidnapped from outside Turkey and who are being tortured or tormented in Turkish prisons," Aslan said and added, "We are here today for Orhan İnandi."
"He has been missing for the last 10 days. We are afraid he will be flown to Turkey, where he will be tortured. For the time being, we still have hope that he is in Kyrgyzstan. And we are here to call on Turkish and Kyrgyz authorities alike: Let Orhan be free! Set him free," Aslan said as protesters chanted "Set Orhan free! Set them free!"
According to a recent report by Freedom House on transnational repression, Turkey has become number one among countries that have conducted renditions from host states since 2014. The Turkish government has pursued its perceived enemies in at least 30 host countries spread across the Americas, Europe, the Middle East, Africa and Asia since July 2016.
"Ankara's campaign has primarily targeted people affiliated with the movement of religious leader Fethullah Gülen, which the government blames for the coup attempt," the report said.
The report sheds light on the corruption and co-optation of some host country institutions including local police or security services that arrested Turkish citizens, who are then held in detention for a short period before being secretly transferred to Turkish custody and immediately taken to Turkey on Turkish aircraft.
"Turkey's top officials openly claim credit for the kidnapping offensive against the Gülen movement, and praise the role of the MİT in the renditions," the report stated.
The statement read out by Aslan during the protests of London also pointed to Turkey's campaign of transnational repression.
"We call on Turkey to stop silencing critics of the regime in Ankara. We call on Turkey to stop using its diplomatic missions for criminal activity. We call on Turkey to release Orhan Inandi now," Aslan said.
Protest in London:
Erdoğan is a kidnapper!#KidnappedInBishkek pic.twitter.com/EO8XgtEvj0

— Necdet Çelik (@necdet_celik) June 10, 2021
"Wake up people, Erdoğan is a kidnapper," the protesters chanted.
On Wednesday Turkish President Recep Tayyip Erdoğan told Kyrgyz President Sadyr Japarov during his official visit to Ankara that he had no idea of İnandı's whereabouts.
Erdoğan's statement, the first comment made about İnandı's disappearance by Ankara, contradicts a claim by Orhan İnandı's wife, Reyhan İnandı, and the family's lawyer, Taalaigul Toktakunova, who say based on information they received, Orhan İnandı is being held at the Turkish Embassy in Bishkek. They refuse to reveal their source for security reasons.
During the protest in London, the co-chair of the advocacy group also addressed the Kyrgyz authorities.
"We know you are under immense pressure from Turkey. We know Ankara is blackmailing you with all kinds of threats about economic sanctions and cancellation of all deals between the two countries," Aslan said. "This mindset ruling Turkey is a temporary one. In fact, it has become even more aggressive recently because it also knows that it is already disintegrating. Don't invest in temporary realities! Invest in the future of Turkey. Invest in the future of Kyrgyzstan."
Over the past five years scores of men alleged by Turkish authorities to have links to the Gülen movement, living in countries around the world, have been arbitrarily detained and forcibly returned to Turkey. There they are incarcerated on bogus terrorism charges in violation of due process rights and protections.
According to recent official statements by the interior ministry, more than 110 alleged members of the movement have been brought back to Turkey as part of the government's global campaign.