The state-run Turkish Radio and Television (TRT), which has been criticized by opposition parties for giving little or no coverage to their election campaigns, will allow an ultranationalist presidential candidate to appear this evening only after he endorsed the re-election of incumbent president Recep Tayyip Erdoğan, the Gazete Duvar news website reported.
Sinan Oğan, who was nominated by a group of ultranationalist parties, received 5.2 percent of the vote in the May 14 presidential election, which helped deprive Erdoğan of an outright victory against his main rival Kemal Kılıçdaroğlu, the joint candidate of an opposition alliance.
Oğan, who made a statement to the press in front of TRT before the May 14 vote to protest the station's failure to cover his election campaign, will appear on a live program on TRT Haber this evening.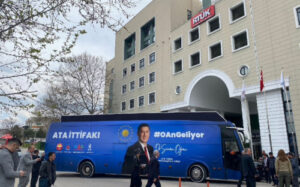 In a press statement in April, Oğan criticized TRT for its biased and discriminatory coverage of presidential candidates other than Erdoğan. He said TRT needed to give equal coverage to all candidates in line with the country's laws; however, it was only broadcasting Erdoğan's campaign as if Erdoğan had rented the station or owned it.
TRT's invitation to Oğan came only after he made an announcement earlier this week supporting Erdoğan in a runoff election on Sunday.
"We will support the People's Alliance candidate, Recep Tayyip Erdoğan, in the runoff election on May 28," Oğan told reporters in nationally televised remarks on Monday.
Journalist Barış Yarkadaş tweeted that Oğan, who held a protest in front of TRT for not being able to appear on the station during the campaign, would appear there tonight.
"He has quickly received the blessing of being close to the government," he said.
According to Radio and Television Supreme Council (RTÜK) member İlhan Taşçı, TRT dedicated 91 times more airtime to Erdoğan than to Kılıçdaroğlu before the May 14 presidential election. TRT Haber covered Erdoğan for over 48 hours, while it covered Kılıçdaroğlu for 32 minutes in total. Erdoğan's ally, Nationalist Movement Party (MHP) leader Devlet Bahçeli, also appeared for nearly 29 hours in TRT Haber's election rally coverage in the same period.
During election campaigns in past years, TRT has been harshly criticized for discriminating against opposition parties while giving extensive coverage to the election campaigns of Erdoğan and his Justice and Development Party (AKP) government.
Most rallies for Erdoğan and the AKP are broadcast live by the station during election campaigns.