Turkey's Finance Minister Lütfi Elvan has submitted his resignation, which was accepted by the country's president, according to a decision published in the Official Gazette in the early hours of Thursday.
Elvan was replaced by Nureddin Nebati, who was a deputy minister at the country's Treasury and Finance Ministry.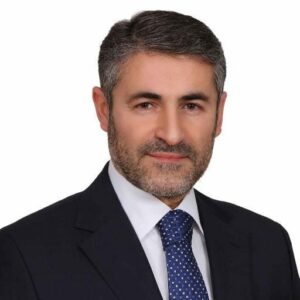 Elvan's resignation comes at a time of record depreciation of the Turkish lira, which has lost nearly 30 percent in value against the dollar in a month, largely due to two rate cuts pushed for by President Recep Tayyip Erdoğan.
Erdoğan continues to defend his unorthodox belief that low interest rates are the antidote to high inflation.
Erdoğan appointed Elvan, a former transport and development minister, to replace his son-in-law Berat Albayrak as the country's finance minister in November 2020 following Albayrak's surprise resignation.
In early November Fahrettin Altun, communications director for Erdoğan, denied media reports suggesting that Elvan had submitted his resignation but that Erdoğan rejected it.
Altun tweeted that Elvan was still in office and that media reports claiming the opposite were untrue.
He also shared a screenshot from a Cumhuriyet daily report which claimed that Elvan had resigned due to the ongoing depreciation of the Turkish lira, high inflation and other financial problems Turkey is facing but that Erdoğan had refused to accept his resignation for the time being. Cumhuriyet also claimed Elvan has been having disagreements with officials who were appointed during the time in office of Albayrak. Cumhuriyet said there were plans to put Albayrak in charge of Turkey's economy again.
Albayrak has frequently been blamed for the deterioration of the Turkish economy, with a decline in the value of the Turkish lira, nearly 30 percent in 2020, leading to higher inflation via imports priced in hard currencies.
Turks are battling soaring prices as the country's annual inflation rate rose to its highest in more than two-and-a-half years in October. The central bank, under pressure from Erdoğan to provide more monetary stimulus, has aggressively cut its policy rate in recent months despite the high inflation. The bank's move has sent the already depreciating lira to record lows, significantly reducing the purchasing power of the currency.