Can Atalay, a jailed human rights lawyer and activist who was elected to parliament from the Workers' Party of Turkey (TİP) in the May 14 parliamentary elections, has not been released from prison despite the fact that he gained parliamentary immunity with his seat in the legislature.
Atalay is one of seven defendants sentenced to 18 years by an İstanbul court in April 2022 in a trial concerning the anti-government Gezi Park protests of 2013, which erupted over government plans to demolish Gezi Park in Taksim.
In a statement on Friday, when the oath taking ceremony was taking in parliament, TİP said Atalay is being held behind bars unlawfully and not allowed to take the parliamentary oath.
Atalay was elected to parliament from the southern province of Hatay, which is among the provinces hardest hit by two powerful earthquakes in February.
"Freedom to Can Atalay immediately," TİP said in its statement.
Atalay's lawyer, Bülent Akbay, accepted his client's mandate from the Hatay Provincial Election Board along with other TİP members on May 25.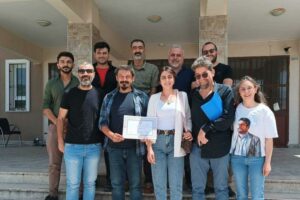 The following day, Atalay's lawyers filed a petition at the Supreme Court of Appeals, demanding his release from prison in line with the 83rd Article of the Turkish Constitution, which says that the execution of a criminal sentence imposed on a deputy either before or after his or her election shall be suspended until he or she ceases to be a member of parliament.
Atalay has vowed to bring to justice the people responsible for the massive destruction in Hatay caused by the earthquakes. He filed two complaints against the city's authorities, former Hatay governor Rahmi Doğan and the province's healthcare director Mustafa Hambolat, alleging their responsibility for the the collapse of İskenderun State Hospital during one of the earthquakes, resulting in at least 76 deaths, and the improper storage of debris from collapsed buildings that could impact human health and agricultural land in the city.
Atalay is one of four TİP deputies elected to parliament on May 14. TİP received its highest vote in Hatay, which stood at 8.5 percent.
Last year Atalay was among the seven Gazi Park trial defendants along with prominent businessman Osman Kavala who were named "prisoners of conscience" by Amnesty International after a high-level delegation led by lawyer Kerem Dikmen, the organization's Turkey chair, visited them behind bars.
Amnesty defines prisoners of conscience as people who haven't used or advocated violence or hatred in the circumstances leading to their imprisonment but are imprisoned solely because of who they are (sexual orientation, ethnic, national or social origin, language, birth, color, sex or economic status) or what they believe (religious, political or other conscientiously held beliefs).
Atalay and the five other Gezi Park trial defendants were given the jail sentences on charges of aiding a coup attempt, while Kavala, who had been behind bars since 2017, was given a life sentence without the possibility of parole on conviction of attempting to overthrow the government by financing the Gezi Park protests.
The government described the protests as a coup attempt against it. Eleven protestors died and thousands more were injured as they were brutally suppressed by the police on instructions from then-prime minister and current president Recep Tayyip Erdoğan.