A potential ground offensive in northern Syria by Turkish military forces could divert Kurdish fighters guarding prison camps that hold Islamic State in Iraq and Levant (ISIL) members, putting those camps at risk, US Central Command (CENTCOM) Commander Gen. Michael E. Kurilla said at a press briefing on Thursday.
Answering a question about how a possible Turkish intervention in Syria would affect US capabilities to fight ISIL, Kurilla said he was very concerned because a possible intervention "can destabilize the region" and call US partners off of the prisons. 
Turkey has carried out airstrikes on semi-autonomous Kurdish zones in Syria and Iraq since a deadly İstanbul bombing on Nov. 13.
Ankara blamed the İstanbul blast on the outlawed Kurdistan Workers' Party (PKK), recognized as a terrorist organization by Turkey and much of the international community, as well as Kurdish militant groups in Syria, who all denied any role in the attack.
After the blast, Turkish President Recep Tayyip Erdoğan threatened to launch an ground operation in Syria.
The US-supported Syrian Democratic Forces (SDF), now the Kurds' de facto army in northeast Syria, have played a key role in dislodging ISIL fighters from the territory they seized in the country.
Ankara strongly opposes the Kurdish People's Protection Units (YPG), the main element of the US-backed SDF, because of its links to PKK militants who have waged a long insurgency in southeastern Turkey.
"They [the SDF] have about 28 prisons across northern Syria. It could cause them to pull off of those and put those at risk," Kurilla said.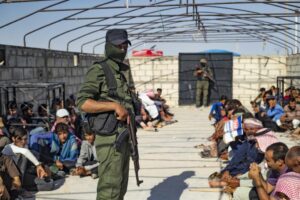 "It also can put at risk the security down at al-Hol Camp. So anything we can do to de-escalate the situation and prevent that incursion by the Turks would be important," he added.
Turkey has launched several incursions against Kurdish forces in northern Syria since 2016, resulting in control over areas along the border.
Pentagon Press Secretary Brig. Gen. Pat Ryder said on Tuesday that the US's focus in the region is on containing ISIL and that it will stay in close communication with Turkish allies on this front. The general said he hopes US forces will not be put in a situation that would jeopardize their safety and security.