An exhibition by Kurdish visual artist Ahmet Güneştekin that focuses on Turkey's recent past and draws attention to the painful repercussions of the country's long-standing Kurdish issue has prompted debate, with many criticizing the artist for failing to effectively protest the suffering endured by Kurds and visitors for disrespecting it.
The Kurdish issue, a term prevalent in Turkey's public discourse, refers to the demand for equal rights by the country's Kurdish population and their struggle for recognition, is the main theme of the exhibit titled "Memory Room," which also addresses the issues of unsolved murders, enforced disappearances and state repression towards the use of Kurdish.
The exhibit, which is hosted by the Diyarbakır Chamber of Commerce and Industry and opened to the public on October 16, has been visited by senior opposition politicians and journalists as well as other well-known figures.
İstanbul Mayor Ekrem İmamoğlu and his wife Dilek İmamoğlu, pro-Kurdish People's Democratic Party (HDP) co-chair Mithat Sancar, former HDP MP Sırrı Sakık, Şerdil Dara Odabaşı, mayor of İstanbul's Kadıköy district, former Justice and Development Party (AKP) MP İhsan Arslan and Türkan Elçi, wife of then-chair of the Diyarbakır Bar Association Tahir Elçi who was killed in 2015, were among those who attended the opening of the exhibit.
According to local media reports, the exhibit has stirred debate mainly due to videos and images circulating on social media that showed pro-government Hürriyet daily columnist Ertuğrul Özkök and İsmail Saymaz, a columnist for the opposition Halk TV news website, dancing the halay — a traditional Turkish line dance — to celebrate its opening and many other famous figures taking selfies with artworks calling attention to unsolved murders, considered by many to be disrespectful.
Özkök, who was the editor-in-chief of Hürriyet between 1990 and 2010, has been criticized for reports that had spread hatred against Kurds in a time when they were frequent victims of unsolved murders, enforced disappearances and extraordinary violence.
"I wish you had visited a tomb with thousands of them [Kurdish victims] instead of dancing the halay. It would be more convincing…" Human Rights Association (İHD) co-chair and lawyer Eren Keskin tweeted, addressing Özkök and Saymaz.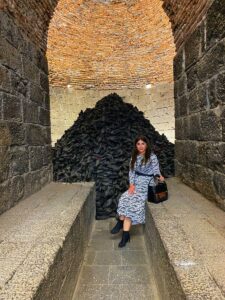 "In the morning … they [visitors] strike poses in tears in the abusive pain porn of an ideologically distant artist. In the evening, they dance with laughter at an event that the relatives of the ordinary people in those coffins [an artwork by Güneştekin to refer to unsolved murders] wouldn't be welcomed. It makes me feel nauseous," Middle East expert Ceng Sağnıç said.
Historian and journalist Ayşe Hür also slammed the event, saying, "The collective 'contemporary art display takes place like this: Someone turns pain into an object of art, some exhibit it, some applaud it, some dance the halay, some share it, some advertise it and some remain silent about it. … If some criticize it, others kick them out of the show."
According to a report by the Mezopotamya news agency, a group of youngsters on Tuesday staged a protest while visiting the display.
"This isn't an exhibition but a betrayal of the values of the Kurdish people. The coffins displayed in the exhibition refer to unsolved murders. The interior minister of the time, Meral Akşener, [current leader of the opposition İYİ (Good) Party], sent a wreath to [celebrate] the opening of the exhibition. It's a betrayal to first kill those people and then celebrate it with wreaths, holding an opening with Kurdish songs at a time when the use of Kurdish is discouraged, when people can be killed just because they are Kurds," they said in a statement.
The ruling AKP, which has increased its crackdown on Kurds especially after the collapse of Ankara's reconciliation process with the outlawed Kurdistan Workers' Party (PKK) in 2015, has been criticized by dissidents for allegedly returning to the methods of the 1990s, which were marked by enforced disappearances and unsolved murders, with many still searching for the perpetrators.
Kurdish language, clothing, folklore and names had been banned since 1937. After a military coup in 1980, speaking Kurdish was officially forbidden even in private life, with the ban officially continuing until 1991.
Between 2010 and 2014, when an attempt was made to solve Turkey's Kurdish issue by means of an official "peace process," lectures were given in Kurdish in some schools, and Kurdish signs were installed in the cities. These rights were revoked after the failure of the peace talks.