Bünyamin Tekin
A remarkable event unfolded over the weekend in Turkey, a rarity with scant precedent in the republic's history.
A major political party's influential leader, who helmed the organization for 13 years and forged an opposition coalition that stood against the ruling party, was unseated in an intra-party election, ceding leadership to his challenger.
This was the scene at the Republican People's Party (CHP) congress, where parliamentary group leader Özgür Özel triumphed over long-standing chairman Kemal Kılıçdaroğlu in a two-round electoral contest, taking charge of Turkey's oldest political party.
Kılıçdaroğlu did not heed calls to step down after his defeat by incumbent President Recep Tayyip Erdoğan in the May elections.
And he was subsequently ousted in the first intra-party election after that defeat.
Such a pivotal moment in Turkish political history is seldom witnessed. To find a parallel, one must go back through the annals of time to half a century ago.
Turkey's political landscape was once dominated by the CHP as a one-party state until the late 1940s. Previous attempts to establish a multi-party democracy had floundered, leading to the dissolution of those nascent parties.
İsmet İnönü, who succeeded founding father Mustafa Kemal Atatürk in 1938 and led the nation until 1950, also presided over the CHP until 1972. On May 8, 1972 this stalwart of Turkish politics, a veteran of the struggle against the occupying Allied powers post-World War I and a key architect of the republic, relinquished party leadership following an intra-party election defeat to his younger protégé, Bülent Ecevit.
İsmet inönü & Bülent Ecevit – Pembe Köşk, 1968 pic.twitter.com/BSrnrX59vU

— ÇapaMag Mazi (@CapaMagMazii) January 19, 2022
The event on Sunday echoes this historical rarity. Another instance that comes to mind is the 1991 internal party defeat of Yıldırım Akbulut, who was perceived as a placeholder for influential president and former party chairman Turgut Özal. Akbulut conceded defeat to rising star Mesut Yılmaz at the Motherland Party's (ANAP) congress. As ANAP was the ruling party at the time, Yılmaz became prime minister after taking the party reins.
A review of other prominent Turkish parties, whether they've governed or served as significant opposition forces, reveals a stark absence of such democratic transitions within their ranks.
When the Democrat Party (DP) wrested control of the government from the CHP in 1950, it was a landmark event, marking Turkey's first peaceful transition of power. Yet DP leader Adnan Menderes remained at the helm until the 1960 coup d'état, after which the party was banned. The Justice Party (AP), the DP's successor, was led by founder Ragıp Gümüşpala until he died in 1964, which then led to Süleyman Demirel taking charge, who stayed until the 1980 military coup. Mirroring his counterpart in the AP, Ecevit led the CHP until the military intervention and the subsequent closure of all political parties. The reauthorization of political parties in 1983 saw the emergence of successor parties, including Özal's ANAP. The True Path Party (DYP), the AP's successor, did not have Demirel as its chairman until 1990 due to a political ban. Demirel led the party until he was elected president in 1993. His successor, Tansu Çiller, led it until 2002, when the DYP suffered a huge loss in the elections, along with other prominent parties at the time. Çiller then went into retirement.
The CHP's post-1980 successor was the Social Democratic Populist Party (SHP), which was led by İnönü's son, Erdal İnönü. İnönü led this party until 1993 and subsequently retired from politics.
Erdal İnönü, son of İsmet İnönü, one of the founding commanders of Turkey. He founded the Social Democracy Party in 1983. In 1989, he gathered his own party under one roof with the other party on the left, the Populist Party.
(Photo from the 1991 election campaign.) pic.twitter.com/IRoRQryZGd

— Samet ALTAY (@sametaltyy) October 31, 2023
His successor, Murat Karayalçın, merged the SHP with Deniz Baykal's CHP. Again, no challenge to leaders. They leave politics of their own accord or on their deathbed.
The Democratic Left Party (DSP), founded by Ecevit after the 1980 coup, remained a part of governing coalitions until 2002, when an ailing Ecevit lost in the general election and handed the reins over to Abdullah Gül of the newly established Justice and Development Party (AKP).
The AKP's narrative itself is indicative of a constrained intra-party democracy.
The National Order Party (MNP) of President Erdoğan's one-time mentor, former prime minister (1995-1997) Necmettin Erbakan, founded by defectors from Demirel's AP in 1969 (a testament to their inability to unseat Demirel internally), underwent several name changes due to bans by the secular establishment for its Islamist leanings, in 1971, 1983, 1998 and 2001. When the Islamist Virtue Party (FP) was closed in 2001, reformists leading an intra-party opposition against Erbakan's traditionalists, including figures like Abdullah Gül, Bülent Arınç and Recep Tayyip Erdoğan, established the AKP. Erdoğan's popularity as İstanbul mayor and his subsequent imprisonment for reciting a poem deemed incendiary propelled him to the forefront of the reformist faction, paving his way to lead the nascent AKP.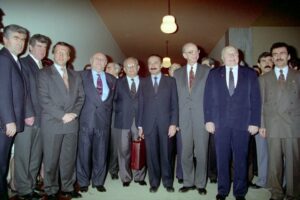 Erdoğan's current ally, Devlet Bahçeli, has been at the helm of the Nationalist Movement Party (MHP) since 1997, following the death of its founder, Alpaslan Türkeş, who led the party since its inception in 1969. When in 2018, frustrated by Bahçeli's alliance with Erdoğan, intra-party opposition led by Meral Akşener wanted to challenge him at a congress, Bahçeli had the congress canceled through a court order, leading to a split in the party and the founding of the nationalist opposition İYİ (Good) Party.
The CHP, which was founded in 1992 by Deniz Baykal after the 1980 ban, was led by Baykal until he resigned in 2010 due to a scandal after a sex tape of an extramarital affair became public.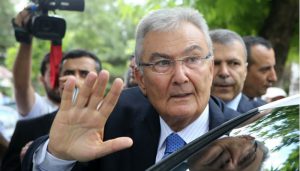 Kılıçdaroğlu was elected chairman only after Baykal resigned.
The saying "Til death do us part" seems apt for the union between Turkish political parties and their leaders, a bond that typically endures until the end.
There is a remarkable exception to these undemocratic, intra-party power relations.
Pro-Kurdish parties, in Turkish politics since 1991, which had to change names as they faced bans similar to Islamist parties, have had multiple leaders and transitions of power within the parties.
But then, this may also be attributed to the fact that the jailed leader of the outlawed Kurdish militants, Abdullah Öcalan, casts a long shadow over Kurdish politics, as no single figure is able to dominate in his myth-like presence, even from prison.
All in all, Özel (49) defeated Kılıçdaroğlu (75) on Saturday, just like Ecevit, then aged 47, defeated the 88-year-old İnönü in 1972.
In this half century Turkey has changed from a flawed democracy into an autocracy. Will this change breathe a fresh new wind into Turkish politics?
What would an intra-party struggle in the AKP or the MHP look like if Erdoğan (67) or Bahçeli (76) are no longer able to lead due to their health, as both have struggled with health scares in the past?
Time will tell, but in any case, it was refreshing to see a change in Turkish politics for many Turks who have become all too accustomed to the persistent status quo.