Workers Party of Turkey (TİP) chair Erkan Baş has announced that his party is launching a march from the southern province of Hatay to the Turkish capital city of Ankara to protest the upholding of the convictions of five Gezi Park trial defendants including a lawmaker from his party.
Baş made the announcement on his X social media account on Thursday, shortly after the Supreme Court of Appeals announced its ruling upholding a life sentence for prominent businessman Osman Kavala and 18-year prison sentences for the other four co-defendants, including TİP lawmaker Can Atalay.
Atalay, also a human rights lawyer who has been jailed since April 2022, has not been released from prison although he was elected to parliament in the general election held in May, hence gaining parliamentary immunity.
Baş said the "freedom march" will begin in Hatay, Atalay's constituent region, on Sunday. It will be held for all Gezi Park trial defendants but mainly for the party's lawmaker Atalay.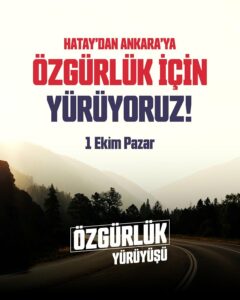 "I will take my first step for freedom from Hatay to Ankara on Oct. 1. I know that I am not, we are not, alone. The palace will also learn that," Baş said, referring to President Recep Tayyip Erdoğan.
On the first day of his march Baş will be accompanied by TİP lawmakers Sera Kadıgil and Ahmet Şık, Atalay's family members and friends and Hatay residents.
The march is expected to take a month as the distance between Hatay and Ankara is around 700 kilometers (434 miles).
The Gezi Park trial defendants were convicted of attempting to overthrow the Turkish government for their alleged role in the protests, which began over an urban development plan in central Istanbul and spread to other cities in Turkey in the summer of 2013.