SpaceX — the provider of the Starlink broadband-from-space services — has applied to the Turkish Telecommunications Authority (BTK) for a global mobile personal communication by satellite services (GMPCS) license to launch its internet in Turkey, the NTV news website reported.
The application came shortly after Musk had a meeting with Turkish President Recep Tayyip Erdoğan in New York on Sunday on the sidelines of the UN General Assembly.
Musk was accompanied during the meeting by Lauren Dreyer, who directs business operations for Starlink; Ryan Goodnight, the SpaceX executive in charge of opening up new markets for internet service; and Omar Kunbargi, who sells SpaceX rockets.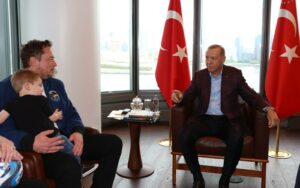 The tech tycoon asked Erdoğan for permission to operate Starlink in Turkey, according to a statement from Erdoğan's communications office.
In response, Erdoğan asked Musk to open his next Tesla factory in Turkey.
It is not known whether the Turkish government, which is notorious for limiting its citizens' internet connectivity, will give a green light to a Starlink operation in Turkey.
Freedom House said last year that Turkish internet users are not free due to restrictions on content and retaliation against users for online speech.
Starlink has been in the spotlight since last year as it helps provide Ukraine with satellite communications key to its war effort against Russia.
The fast-growing network of more than 4,000 satellites in low Earth orbit in June signed a contract with the US Department of Defense for its satellite services.
Musk had said in 2021, before the Ukraine war, that Starlink would go public when its cash flow is reasonably predictable.
The Wall Street Journal reported last month that SpaceX's surging revenue helped it turn a small profit in the first quarter of 2023 after two years of losses.