The İstanbul Governor's Office has refused to issue a permit to a group of civil society organizations that sought to hold a commemoration ceremony for Iranian woman Mahsa Amini on the first anniversary of her death, a journalist has said.
Amini died in the custody of Iran's morality police on Sept. 16, 2022. Arrested by the police, who enforce strict rules in the Islamic Republic requiring women to cover their hair and wear loose-fitting clothes in public, for allegedly wearing the hijab improperly, Amini suffered a heart attack, fell into a coma and died, Iranian state-affiliated media said at the time.
The death of Amini, a Kurdish woman from western Iran, sparked outrage over the government's increasingly strict enforcement of an ultraconservative dress code for women, compulsory since Iran's 1979 revolution.
Following the developments, Iranian women in Turkey held protests in İstanbul and İzmir, carrying placards bearing photos and the name of Amini and chanting slogans. Police detained 20 Iranian women during the protests who were threatened with revocation of residence permits.
Journalist Savash Porgham announced on X, formerly known as Twitter, that the civil society organizations received a response from the governor's office which said that the staging of the commemoration ceremony was not found to be "appropriate." The governor's office did not cite any reason for its decision.
The civil society organizations are planning to hold a protest in İstanbul's Beyazıt Square.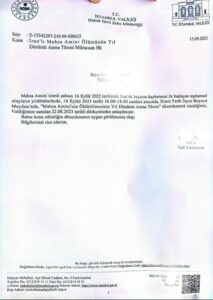 Although freedom of assembly is guaranteed in Article 34 of the Turkish constitution, people frequently face bans, police intervention and detention when they want to stage a protest.