İstanbul's opposition mayor Ekrem İmamoğlu is likely to secure re-election against all possible candidates to be nominated by the ruling Justice and Development Party (AKP), according to the results of a recent survey.
Turkey is scheduled to hold local elections on March 31, 2024.
The survey, conducted by Aksoy Research, showed İmamoğlu, from the main opposition Republican People's Party (CHP), garnering the majority of the vote in İstanbul against the possible AKP candidates, among whom are former interior minister Süleyman Soylu, former environment minister Murat Kurum, Selçuk Bayraktar, President Recep Tayyip Erdoğan's son-in-law and the chief technical officer of Turkish unmanned aerial vehicle (UAV) producer Baykar, and three district mayors in İstanbul from the AKP.
Among the possible AKP mayoral candidates, the one who gets the highest percentage of votes against İmamoğlu is Bayraktar, whose vote stands at 46 percent to İmamoğlu's 54.1 percent.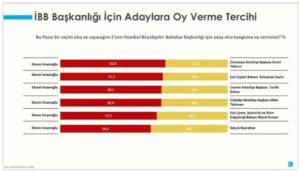 At a news conference on Tuesday, İmamoğlu revealed his intention to run for mayor of İstanbul again, although he fell short of officially announcing his candidacy.
The 52-year-old ended the yearslong AKP rule in İstanbul when he defeated the AKP's mayoral candidate twice in the local elections of 2019. He won a rerun election by a larger margin than the first, which had been canceled due to supposed irregularities.
The mayor, who is battling a court case, was officially barred from politics after being convicted in December of "insulting a public official" and sentenced to nearly three years in prison.
İmamoğlu appealed and can still serve as mayor.
But the possibility of a higher court upholding the sentence effectively ruled him out of running against President Recep Tayyip Erdoğan in the May general election.
He is seen as a possible CHP chairman in the future as the party's current chair, Kemal Kılıçdaroğlu, faces calls for his resignation due to his election defeat against Erdoğan in the presidential vote.