The leader of Turkey's far-right Nationalist Movement Party (MHP) has spoken approvingly of a racist attack on Sunday in western Turkey on Amedspor, a football team from the predominantly Kurdish province of Diyarbakır, according to Turkish media.
Football fans who sat in front of their televisions on Sunday evening to watch a game between Bursaspor in western Turkey and Amedspor witnessed violence and the chanting of anti-Kurdish slogans against Amedspor, with tensions always running high during matches between the two clubs.
Not only Bursaspor fans but also the team's players and personnel were involved in the physical and verbal attacks on the players and fans of Amedspor before and after the match in Bursa.
Bursaspor fans threw a variety of objects including knives, bullets and water bottles onto the pitch before the match began while chanting racist slogans against Kurds, according to media reports.
MHP leader Devlet Bahçeli, an ally of President Recep Tayyip Erdoğan, who spoke at a party meeting and congratulated Bursaspor fans for what he called their "national stance," accusing the "pro-terrorism" Amedspor fans of sparking a "provocation" in the stadium.
"As far as I'm concerned, there's no place called Amed, so we can't talk about Amedspor. I greet the Bursaspor fans here and congratulate them for their national stance," said Bahçeli.
Amedspor changed its name in 2014 from Diyarbakırspor to Amedspor, as Amed refers to Diyarbakır in Kurdish. The football team has since then faced several racist attacks during its away games by fans of other football clubs, especially those in Bursaspor, accusing them of supporting the outlawed Kurdistan Workers' Party (PKK), listed as a terrorist organization by Turkey and much of the international community.
It is common for Kurds in Turkey to face racist attacks and accusations of links to the PKK, which has been waging a bloody war in the country's southeast since 1984.
Meanhwile, Bahçeli's remarks attracted criticism from Pervin Buldan, the co-chairperson of the pro-Kurdish Peoples' Democratic Party (HDP), who attended her party's parliamentary group meeting wearing an Amedspor scarf.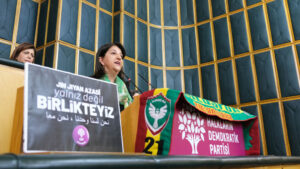 She accused Bahçeli of approving of the racist attacks and shadowy gangs of the 1990s while denying the existence of Amed.
"Amed exists, and it will continue to exist. Amedspor exists, and it will continue to exist. Amedspor will continue to score goals. What won't exist and will leave [power] is in the elections is you," said Buldan.
In addition to staging physical and verbal attacks on Amedspor football players and fans, some Bursaspor fans waved controversial banners and posters during the match representing the extrajudicial killings and abductions that had taken place in Turkey's southeast during the 1990s, at the height of the Turkish-Kurdish conflict.