Melis Bayraktar
Editor's note: This interview was conducted before the Feb. 6 earthquakes that shook Turkey. Relations between Greece and Turkey have been strained in recent years. However, there is hope that Greece's recent goodwill gesture in response to the earthquakes in Turkey could lead to an improvement of relations between the two countries. The Turkish foreign minister has spoken of the possibility of easing tensions and suggested that talks and confidence-building measures should continue. This is not the first time a natural disaster has provided an opportunity to de-escalate tensions between Greece and Turkey, as there was a similar situation in 1999. The term "earthquake diplomacy" was coined to describe the subsequent improvement in bilateral relations.
"This old and crude populist ideology has already had its day on the planet and in Europe, with Mussolini, Stalin, Hitler and Franco, and we've seen the results," warns legendary film director Konstantinos Gavras, better known as Costa-Gavras, regarding the populist discourse and aggressive rhetoric of Turkish President Recep Tayyip Erdoğan toward Greece. In an exclusive written interview with Turkish Minute, Costa-Gavras emphasized the danger of a possible war between the two nations, especially in the context of Russia's war on Ukraine.
According to Costa-Gavras, the rhetoric of Greek Prime Minister Kyriakos Mitsotakis is also populist and nationalist, but there is no comparison between him and Erdoğan, "who seems to want to restore the Ottoman Empire at any cost," to appeal to his voters.
Erdoğan has recently made provocative statements, including threatening a sudden invasion of Greece and using ballistic missiles against Athens.
Although these actions are seen by many as political maneuvering ahead of elections in the first half of 2023 aimed by Erdoğan at appealing to nationalist voters, some are wary of the prospect of actual aggression, especially after Russian President Vladimir Putin launched an invasion of Ukraine last February.
"A second war in Europe after Putin's would be a total disaster, a stupidity that would cross all the lines that have already been crossed," Costa-Gavras told Turkish Minute.
Tensions have risen between NATO members Turkey and Greece over a series of long-standing disputes, including territorial claims in the Aegean Sea and opposing views on the use of airspace there. Turkey claims that Greece is violating international agreements by fortifying its Aegean islands with a military presence, while Greece argues that treaties allow for limited military deployment and points to Turkey's substantial troop presence on the Turkish mainland opposite the Greek islands.
Escalating tensions between the two nations have brought them to the brink of war three times in the last 50 years, underscoring the need to resolve their disputes.
Greek-French director on film, series, Turkey, Greece, Mitsotakis and Erdoğan
"I see only one solution for Greece and Turkey: a peace solution in which reason, which distinguishes man from beast, dominates and prevails," said Costa-Gavras, one of French cinema's most internationally acclaimed directors, known as a master of politically engaged film.
One of the most prolific filmmakers of his generation, the Greek-French director was born in Arcadia, Greece, in 1933 and settled in France after high school, where he began studying literature at the Sorbonne in 1951.
"Writing was my ambition," Costa-Gavras said when asked when his passion for cinema grew.
"While I was studying at the Sorbonne in Paris, I discovered a new way of writing at the Cinémathèque Française, which was with images."
In 1956 he left his university studies to study film at the prestigious French film school, the Institut des hautes études cinématographiques ( Institute for Advanced Cinematographic Studies, or IDHEC).
He gained international recognition and worldwide fame with the fast-paced political thriller "Z" (1969), a look at the 1967 Greek military coup that won two Academy Awards.
Although his films are often referred to as such, Costa-Gavras finds the term political thriller "banal and vulgar."
"My films are about men, women and our societies exposed to different forms of power," he told Turkish Minute.
His first English-language film, "Missing" (1982), which premiered at the 1982 Cannes Film Festival, where it won the Palme d'Or along with the Turkish film "Yol" by Kurdish directors Yılmaz Güney and Şerif Gören, also won an Oscar for Best Adapted Screenplay in 1983.
Costa-Gavras sees film as a mixture of art and commerce but prioritizes personal passion over industry demands in his work. He believes that each of his film projects must spring from his own personal interests, which he believes limits the pressure of the commercial aspect of the industry.
The Locarno Film Festival awarded Costa-Gavras its Lifetime Achievement Award in 2022.
Costa-Gavras discussed a wide range of topics in the interview, including a new series he is working on, the ongoing tensions in Turkish-Greek relations and his friendship with the late Kurdish director Güney.
When did you first become interested in directing?
Writing was my ambition. While I was studying at the Sorbonne in Paris, I discovered a new way of writing at the Cinémathèque Française, which was with images. The cinema only seemed like entertainment at the time. I then decided to study this new medium to tell the stories that interested me. I was accepted at the IDHEC – Institut des Hautes Etudes Cinématographiques, today FEMIS.
How do you decide which projects to work on?
Cinema is both artistic creation and industry. For me, each of my projects can only be a personal passion; it is my way of choosing. This greatly reduces the demands of the industry.
Can you give us any information about your current or future projects?
I prefer to talk about my projects when they are completed. Before that, they are only pleasures that are born, grow or wither. To describe them with words would be to betray them. Cinema is about images.
Right now, you are working on a series. What inspired you to work on your first series?
I decided to try this form of writing while asking myself if a series is a work of art because the subject interested me a lot. I realize that it is of great complexity and that industry requirements take precedence over artistic requirements. I don't yet know if it will be concluded or not.
Can you give us any information about the story or characters in the series?
The most important thing for the [show] is that the spectator knows nothing about the story and its developments and that [they can] discover them. This is the appeal of a work of art that is a motion picture.
How do you choose your actors and what is your approach to working with them?
I always choose my actors [considering whether] they are best suited for the role at hand. I do not necessarily pay attention to looks or fame. For me, after the co-writer, the main actors in a film are my most important collaborators. I talk to them, I take their point of view into account, but it's clear that I make the final decision.
How often do you watch your own films, and what do you think of them?
Movies are like children, some have great careers in life. Some do not. I sometimes look at them and try to understand what was not right for the film, the viewer or the political environment.
What I can say is that I am proud of each of my films, regardless of how successful they are or what the critics think.
What movie would you choose to go back in time and change if given the opportunity, and what changes would you make?
Each film is closely linked to its time, its historical truth and the political sensibility of the moment. It is under these conditions that I conceived, shot and presented each of my films to the public. There is nothing to change and certainly no need to take into account current thoughts and feelings. That would be a betrayal.
A Kurdish actor should portray Yılmaz Güney in a possible film on his life: Costa-Gavras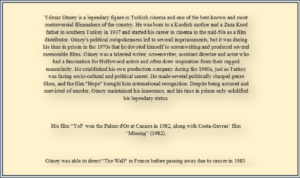 Are you planning to direct a movie about the life of Yılmaz Güney?
I admire the work of Yilmaz Güney. He is a renowned filmmaker among Kurds, Turks and on the international stage. I am proud to have shared the Palme d'Or at the Cannes Festival with him. I believe that a Kurdish or Turkish filmmaker should create a film about his life and the impact on his work. This film should not be made with an American star or in English, but rather with a Kurdish actor using the language or languages that Yilmaz spoke. I had the opportunity to express this to Yilmaz's close friends, who offered me the opportunity to direct the film.
When was your last visit to Turkey?
Several years ago I came to Istanbul with Michele to visit friends and to speak at a university. But my strongest and most moving memory is when I attended the screening of "Yol" at a stadium in Istanbul. A huge crowd celebrated their artist and the film they seemed to discover. It was overwhelming.
In  April 2013, when the Turkish police intervened and used force to prevent people from protesting against Turkish government plans to demolish the Emek Theater, you were there in Taksim Square among the thousands of protestors. You even wrote a letter to then-prime minister Erdoğan urging him to stop the theater's demolition. What was his reaction?
It is not the police that intervene, but the political power that denies this kind of freedom. The Emek Cinema was a beautiful theater, and the crowd was full of longing, full of freedom and full of hope for a world that needs to be changed and made more human.
This letter, the details of which I do not remember, addressed to then-prime minister Recep Tayyip Erdogan, now president of the Turkish Republic, expressed, among other things, a personal concern, a historical desire that was necessary.
[A desire] more topical than ever: to build a relationship between Greece and Turkey, the two neighbors in constant latent war, to start a reasonable relationship. This could develop into a peaceful and lasting relationship, and with time and a real effort of goodwill on both sides, could lead to a friendly relationship. That does not seem to be the Turkish project over the last hundred years, despite some bright spots. Dark projects regularly undermine any possibility of accepting a lasting peace.
Let me explain.
After the tragedy of 1922, which like all [stupidities] ended with a great catastrophe for the Greeks and a Turkish victory, moments of peace began to emerge between Ataturk and Venizelos, two great charismatic and visionary leaders. After their deaths, a pogrom was carried out [against Istanbul's Greek minority] in Istanbul in 1955.
Hundreds of Greek houses and churches were destroyed and 100,000 Greeks were expelled, even though the two countries were allied in NATO. The United States allowed this to happen.
In 1964, the remaining 50,000 Greeks were expelled.
In 1974, Turkey occupied half of Cyprus, where 82 percent of the Greeks [on the island] lived.
More than 100,000 Greek Cypriots were expelled [from the north of the island] and replaced in the following years by Turks from Anatolia, protected by an army of 40,000 soldiers.
Since then, a new latent war has been waged between the two countries, with intervals of common will to be better neighbors. Agreements have been signed here and there. But the problems keep resurfacing: Territorial waters, airspace violated thousands of times by Turkish pilots, etc., etc.
In 2020 President Erdogan declared Hagia Sophia a mosque.
A stolen church [made into] a gift to Allah. A mediocre and vulgar political act: extreme historical and sentimental violence for the Greeks and for all Orthodox.
The basilica, completed in 532, was the largest in Christendom. It remained so until 1453.
In 2020, President Erdogan breaks all agreements and opens the borders and thousands of immigrants cross the Greek border.
Since then, relations have degenerated into open conflict: Greek islands are claimed by Turkey, as well as territorial waters and airspace, etc., etc.
I am in Paris where I see this situation on the brink of war, of a growing hatred between a country with 80 million inhabitants, Turkey, and Greece with 10 million inhabitants. Terrified that this war will break out.
Can tensions between Greece and Turkey, heightened by the approach of elections and the use of nationalist rhetoric by Mitsotakis and Erdoğan, lead to a European war?
There is no comparison between these two men, except for their desire to win elections. And we live in a time of general political regression. Mr. Mitsotakis uses populist and nationalist rhetoric. Nationalistic perhaps because of the threat of the demands of Mr. Erdogan, who seems to want to restore the Ottoman Empire at any cost, which excites his most extreme voters. This old and crude populist ideology has already had its day on the planet and in Europe, with Mussolini, Stalin, Hitler and Franco, and we've seen the results. A second war in Europe after Putin's would be a total disaster, a stupidity that would cross all the lines that have already been crossed. I see only one solution for Greece and Turkey: a peace solution in which reason, which distinguishes man from beast, dominates and prevails.
Costa-Gavras is a filmmaker whose career spans six decades and two continents. His films such as "Z" (1969), "Missing" (1982), "The Axe" (2005), "Capital" (2012) and "Adults in the Room" (2019) are not only entertaining, but remain relevant, timely and focused on human issues. As Turkish Minute, we wish him a Happy Birthday as he turned 90 on February 12.