Ali Dinçer
Before taking up residence at 10 Downing Street, Boris Johnson once famously won £1,000 prize for a poem he wrote about Recep Tayyip Erdoğan in which he referred to the Turkish president as a "wankerer" and implied that he had sex with a goat.
A lot has happened since then, and Johnson now holds the reins of the Western government with arguably the closest ties to Erdoğan, which do not seem at all to be soured by his past accomplishment in poetry, despite the Turkish strongman's well-established reputation as a thin-skinned and vindictive autocrat.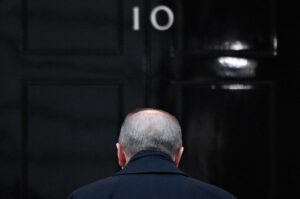 In fairness, London is not the only Western capital criticized for ignoring Erdoğan's boundless contempt for human rights and his unending crackdown on civil society, media and the Kurdish political movement. Germany also received its share of criticism for being overly lenient with Erdoğan, a policy that persisted into the unprecedented collapse of the human rights situation after a failed military coup in July 2016.
While Berlin's rationale for appeasing Erdoğan is fairly self-evident in view of its keenness on sticking to a delicate 2016 migrant deal that purchased Ankara's services as a gatekeeper for the EU in exchange for financial aid and Turkey's significance as a customs-free market within the context of Frau Merkel's trademark commerce-driven foreign policy, the British government's dealings with the Turkish president's one-man regime, particularly in the aftermath of the attempted putsch of 2016, have remained rather unexplored and often overshadowed by wider UK-related concerns against the backdrop of Brexit or Erdoğan's spats with other European capitals.
In the aftermath of the coup attempt, London stood out in the free world for its feverish support for the Turkish government while other countries were keeping their distance, arguably due to Erdoğan's use of the abortive putsch as a pretext for carrying out what appeared to be his premeditated assault on the rule of law. Alan Duncan, then-British minister of state for Europe and the Americas who paid a visit to Turkey just a week after the attempted coup, even went so far as to accuse the rest of Europe of "being very slow to react."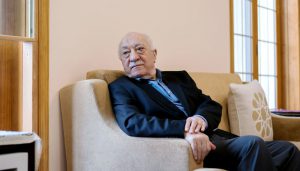 The UK also frenetically embraced the Turkish government's narrative on the coup, specifically the claim that it was orchestrated by US-based cleric Fethullah Gülen, in stark contrast to not only other prominent Western security and intelligence officials but also a report later drafted by the UK's very own parliament which would find that the allegation was lacking an evidential basis. The parliamentary report also slammed the Foreign Commonwealth Office (FCO) for its downplaying of the severity of the human rights crisis caused by the Turkish government's widespread crackdown on dissent.
Central to any effort to shed light on this notable alignment is the role played by Richard Moore, a British diplomat who at the time of the coup was the ambassador in Ankara.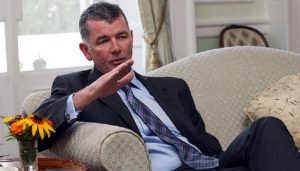 Known in Turkey for his quick-witted Twitter personality and flamboyant football fandom, the go-to shtick for any diplomat seeking to appeal to the Turkish public, Moore also made unusually frequent appearances in government-controlled mainstream media, including his coup anniversary article published in the Sabah newspaper, which is owned by the brother of Erdoğan's son-in-law, and a peculiar piece in Yeni Şafak, an Islamist version of Breitbart known for its peddling of anti-Western and anti-Semitic conspiracy theories, in which he tried to deflate Turkish conservatives' traditionally conspiratorial views on the UK by explaining that the old British Empire was a thing of the past.
While the publications by Moore and Duncan in pro-Erdoğan mouthpieces never failed to flatter the Turkish people for standing up to the coup and to praise the highly "strategic" relationship the two countries enjoyed, they strictly avoided referring to human rights issues, even generically. The FCO also drew criticism for not designating Turkey among its "Human rights priority countries."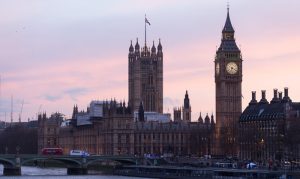 In December 2017 Moore returned to his capital as a political director. In mid-2020 he was appointed as the new head of MI6, the UK's intelligence agency. His name would reappear with a conspicuous visit he paid to Ankara as intelligence chief in November 2020 on the heels of a military escalation in Nagorno-Karabakh between Armenia and Azerbaijan in which Turkey's military was actively involved on the side of the Azeris. Instead of meeting with his Turkish counterpart, Hakan Fidan, Moore chose to hold talks with Erdoğan's spokesperson İbrahim Kalın, and the two discussed, among other topics, developments in the South Caucasus.
The Strategic Culture Foundation, a Russian journal, released an analysis in which it described Moore as the architect of an alleged UK strategy to use Turkey as a battering ram to advance British foreign policy interests. Yet, this claim should be taken with a grain of salt as it came from an establishment closely affiliated with the Russian foreign ministry and flagged by the US State Department for spreading propaganda on behalf of the Kremlin.
Nevertheless, Moore's visit remains worthy of interest since it came at a point when Erdoğan had grown isolated in the international community due to his standalone warmongering during the conflict, reminiscent of the role he played as ambassador when the Turkish autocrat was widely criticized in Western capitals over his disproportionately brutal response to the failed coup.
The UK under Moore's watch seems to have filled a vacuum created in recent years by Erdoğan's break with Turkey's traditional Western alliances as well as a certain disinterest that prevailed in Washington. What remains to be seen is whether this will change during the presidency of Joe Biden, who famously ran on a campaign promise to adopt a more values-based stance vis-à-vis autocratic regimes and whose term has already kicked off with a cold shoulder to Erdoğan.