Journalist Şirin Kabakçı, who used to be Konya bureau chief for the Zaman daily, Turkey's highest circulating newspaper before its takeover and closure by the Turkish government in 2016, has written in a letter from prison that he is about to lose his faith that justice will be served in his case after spending 17 months in pre-trial detention.
Kabakçı is one of the dozens of journalists who were arrested in the aftermath of a failed coup attempt in Turkey on July 15, 2016 because they used to work for media outlets affiliated with the Gülen movement.
The Turkish government accuses the movement of masterminding the abortive coup, although the movement strongly denies any involvement.
The journalist faces charges of membership in a terrorist organization, which is how the Turkish government labels the Gülen movement.
In a letter he sent from Konya Prison, Kabakçı wrote that he is jailed merely because of his journalistic activities and that for the past 17 months he has been expecting the court to correct the unlawfulness he has been subjected to but said his hopes are about to fade away.
"Today, I am on the verge of losing my faith in the dispensing of justice by the Turkish judiciary that I have been waiting for," wrote Kabakçı, adding that he has so far not written any letter to any journalism organization in the hope that justice will come and this is his first such letter.
The journalist said he is expecting all those reading his letter to raise their voices against the detention of journalists due to their journalistic activities.
Kabakçı's next hearing is slated for Tuesday.
Turkey is the biggest jailer of journalists in the world. The most recent figures documented by the Stockholm Center for Freedom (SCF) show that 254 journalists and media workers were in jail as of May 8, 2018, most in pretrial detention. Of those in prison 192 were under arrest pending trial while only 62 journalists have been convicted and are serving their time. Detention warrants are outstanding for 142 journalists who are living in exile or remain at large in Turkey.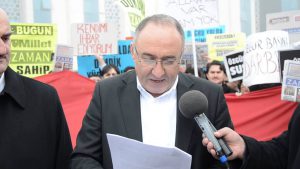 Detaining tens of thousands of people over alleged links to the Gülen movement, the government also closed down some 200 media outlets, including Kurdish news agencies and newspapers, after a coup attempt in Turkey in July 2016.
Turkey is ranked 157th among 180 countries in the 2018 World Press Freedom Index released by Reporters Without Borders (RSF). If Turkey falls two more places, it will make it to the list of countries on the blacklist, which have the poorest record in press freedom.